Hundred Palms Residences. Your Home To Greenery.
Updated 29 Oct 21
DROP US A MESSAGE TO CHECK OUT THE NEWLY RELEASED UNITS NOW!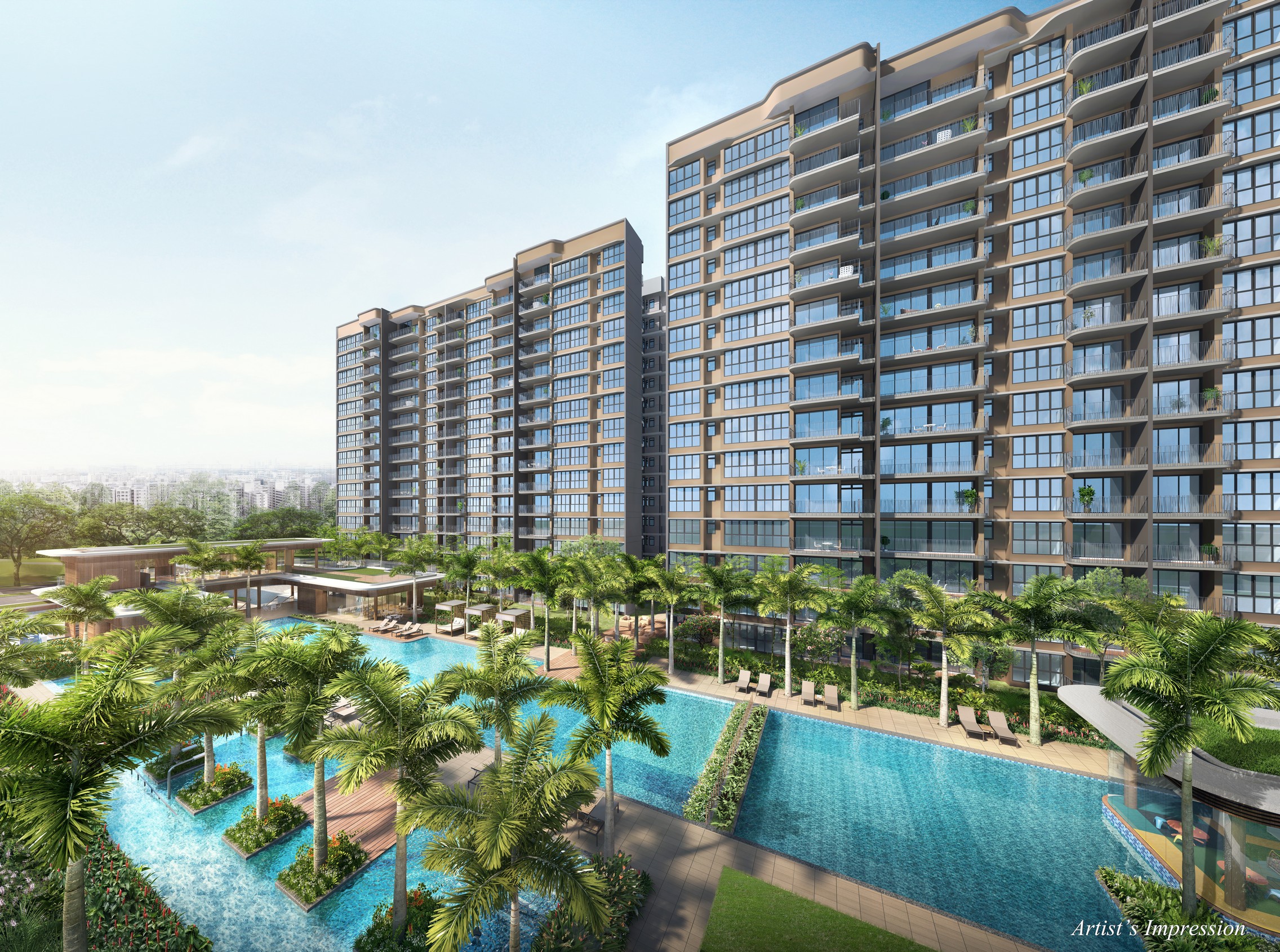 Hundred Palms Residences EC (executive condo) is an exclusive new development sited in the heart of Hougang town and touching the blue heavens. Its stunning profile brings new excitement to urban-resort living at the edge of the city. Standing jewel-like in the city skyline, Hundred Palms Residences EC dramatic architecture offers an abode that nestles in the midst of lush greenery living. Other executive condo include Ola EC, North Gaia, Copen Grand, Tenet, Parc Central, Parc Greenwich, Provence Residence and Piermont Grand.
Convenience that even time simply has no effect on. While many claimed to be near to nature, this EC  Hear the birds chirp, watch squirrels dance, and enjoy the ripples of water that for a meandering chain of joy and peace in your life. Immerse in an array of modern facilities from shimmering pools to culinary garden. Own the rarest of modern luxury with pen balconies that draw you closest to mother nature every awakening moment.
Within its inspiring seaside facade, the luxurious Hundred Palms Residences EC await the selected few who will call it home. Hundred Palms Residences EC presents a rare investment opportunity to own a beautifully conceptualized development.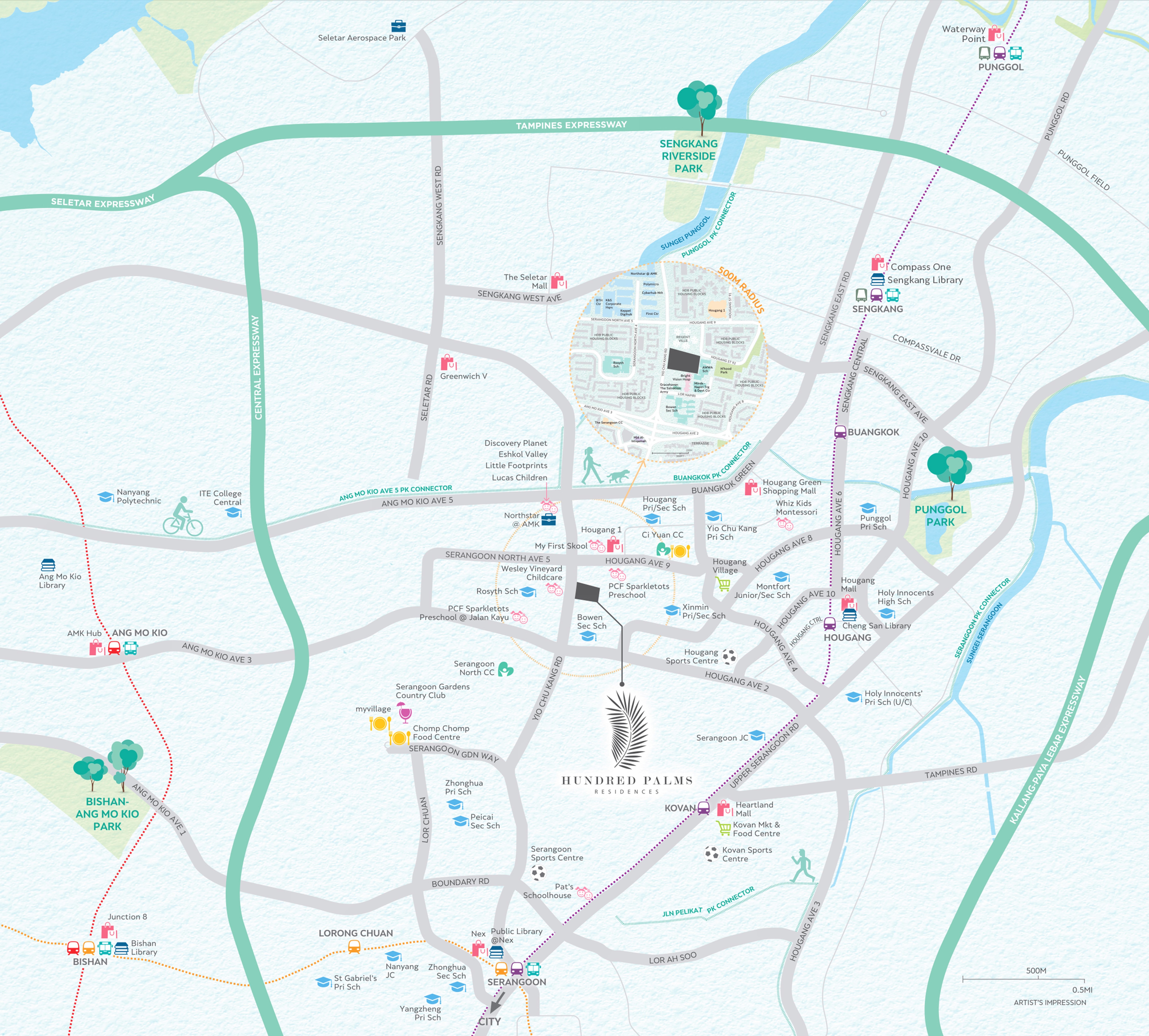 At Hundred Palms Residences, enjoy surroundings of vibrant cityscape, meandering rivers and tranquil neighbourhood.
In a boundary defined by sophisticated modernity and chic facilities, your body and mind is constantly engaged by refreshing elements of life. The abundance of lifestyle pleasure is never to far away from your fingertips. You will never want to go elsewhere.
No matter what you desire, you will never have to travel far to find it. New shopping malls share the same neighbour as small boutiques and art galleries that boast an eclectic range of offerings and designers making their mark on the local fashion design scene.
Boasting some of Singapore's best food, shopping and leisure destinations, it is east to see why this town has been charming locals for generations.
Indulge in a myriad if thematic zones on lush sprawling grounds. Take a stroll along the park connector and explore the wildlife habitat.
Call this your home with lush view and nature at your doorsteps.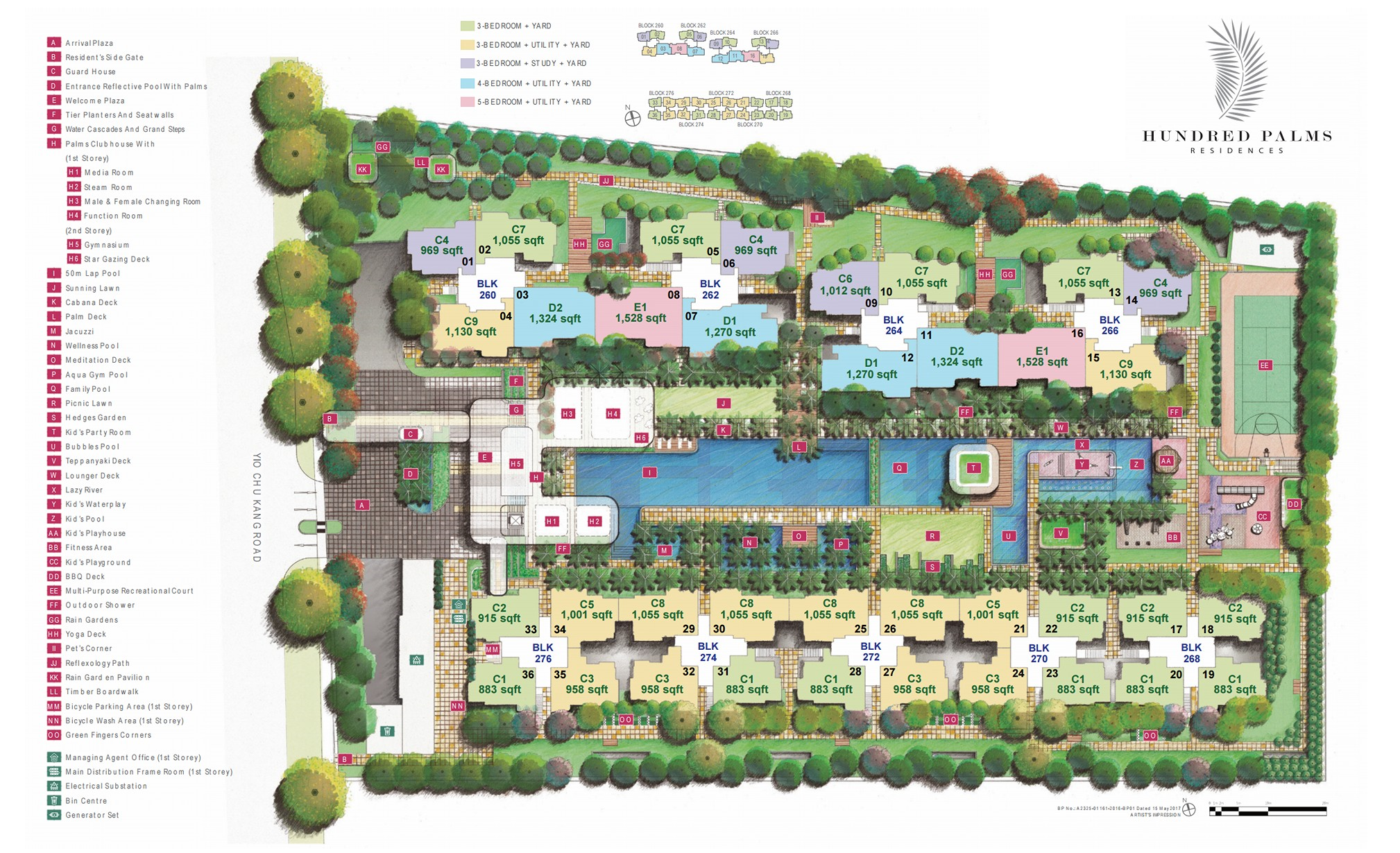 At Hundred Palms Residences EC, an eloquent flaunt of tasteful dispositions in every way, little effort is needed to identity the premium quality that characterize your home. More than a place to rest your tired soul, it is a venue for celebration. It is the best way to show off how you live.
Live within the best of natural landscapes and life style offerings. Have boundless greenery along with amenities such as sports hall and shopping mall nearby. Travel just minutes for round the clock dining at the eateries around the corner.  Enjoy convenient access to the best amenities that the location has.
Step out to the park-connector by Hundred Palms Residences EC that runs through various the parks. The beckoning city is also within reach.
At Hundred Palms Residences, Your destination is always nearby. Several expressways link you to all parts of Singapore.
Fun Under The Sun. Catch the wind in your face down. Sporty and love the great outdoors? Indulge in an early morning jog or cycle along the serene park or get your adrenaline pumping in a myriad of sports activities
Education is fundamental for every child's growth. Excellent schools such as schools are all within close proximity.
The best education foster a lifelong passion for learning and inspires the imagination. Close to a slew of prestigious schools and enrichment institutions, hundred palms residences provides the ideal base for families seeking only the best for their children.
Give your little ones a head start by enrolling them in a pre school that goes the extra mile to nurture their talents, skills and creativity. With years of tradition and heritage behind them, this town has long been home to some of Singapore's top primary schools. Older children will not have to spend long hours travelling to prestigious institutions nearby. Whether they are attending a polytechnic or junior college, young adults looking for higher education will find many options nearby.
| | |
| --- | --- |
| Developer | Hoi Hup Realty Pte Ltd |
| Address | Yio Chu Kang Road |
| Tenure | Leasehold 99 years |
| Expected TOP Date | 28 Feb 2020 |
| No. of Units / Storeys | 531 units/ 9 blocks of 15 storey |
| Site Area | 18,422.9 sqm/ 198,302 sqft |
| Plot Ratio | 2.8 |
| Payment Scheme | Normal Progressive and Deferred Payment |
| | | |
| --- | --- | --- |
| Type | No of Units | Size (sqft) |
| 3 Bedrooms | 441 | 883 – 1227 |
| 4 Bedrooms | 60 | 1270 – 1432 |
| 5 Bedrooms | 30 | 1528 – 1636 |
| Total | 531 | - |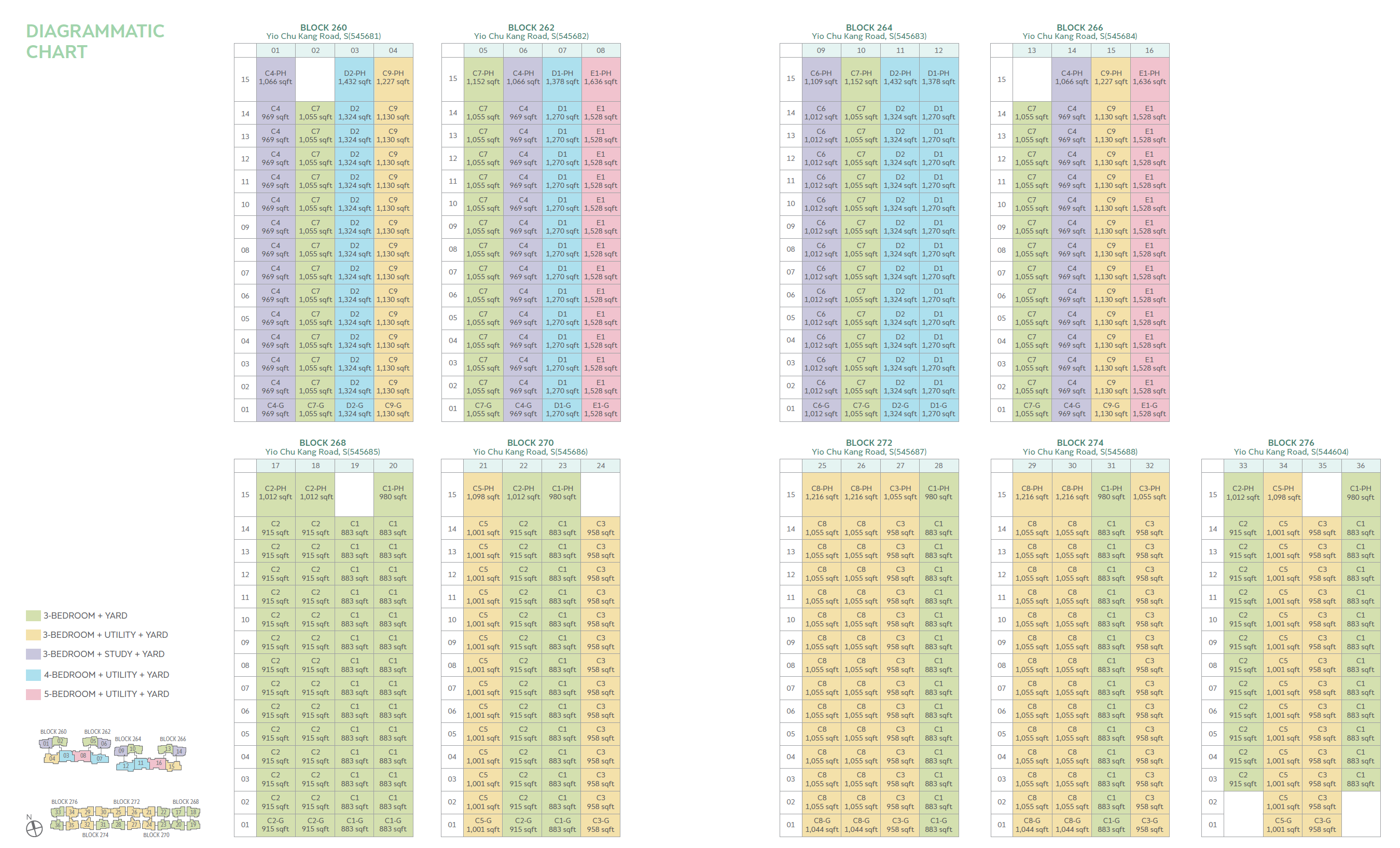 At Hundred Palms Residences EC, indulge in pleasurable swims at the pool, burn calories at the gymnasium, gather with friends at the barbecue pavilion or simply let off steam at the relaxing jacuzzi. All amidst a tropical paradise of fragrant flora, tranquil greenery and calming water features. Experience an atmosphere of serene tranquility and peace which brings inner comfort and relaxation.
Check out the details and floor plans to experience the spacious and luxurious layouts to meet the needs of your family now!
Newly Released Hundred Palms Residences EC Units and Price List!
* Prices subject to changes. Enquire to check out the updated Hundred Palms Residences EC available units, prices and discounts now!
Call For Enquiries or Viewing Appointments Now!