Parc Life. Everyone Deserves 2 Parks.
Updated 9 Apr 2018
LATEST PROMOTIONS!!!
2 BEDROOMS FULLY SOLD!
3 BEDROOMS AVAILABLE!
4 BEDROOMS FULLY SOLD!
5 BEDROOMS FULLY SOLD!
Key Dates!
OPEN FOR BOOKING NOW!
Check out the price list and units availability below!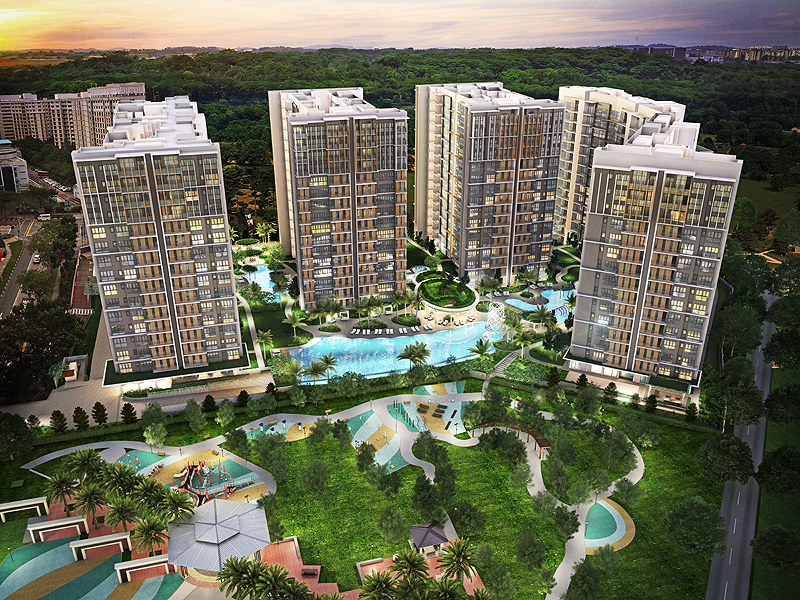 Parc Life EC (executive condo) is set to be Sembawang's next hottest residential property. Set amidst expansive greenery and pools, the towers are oriented to maximise natural ventilation and its spacious apartments are strategically placed to offer views of the landscape and water features. To match the unique exteriors, the apartments are outfitted with luxurious finishings and premium fittings. Curated by Fraser Centrepoint Homes, Parc Life is specially designed to meet the special needs of your modern family, small or large. The beautiful Canberra Park at your doorsteps, the abundance of spaces and the variety of the state of the art lifestyle facilities to suit residents of all ages make living at Parc Life, located beside Skypark Residences, playfully fun.
Come along and take a stroll along through Parc Life. Discover how Parc Life is the ideal home for its beautiful nearby parks and cycling routes with convenient access to town, the numerous top notch schools and other amenities in close proximity, and the bright job prospects in the burgeoning Woodlands Regional Centre, North Coast Innovation Corridor and Northern Region.
Whether you are looking to unwind in a lush green sanctuary, indulge in feasts with family and friends, or get into a healthier lifestyle, you will love te plethora of facilities at Parc Life EC. Residents can luxuriate in the many pools, work out at the gymnasium and relax at the spa, and the children can enjoy themselves at the kids pool. At this executive condominium, an extraordinary lifestyle awaits.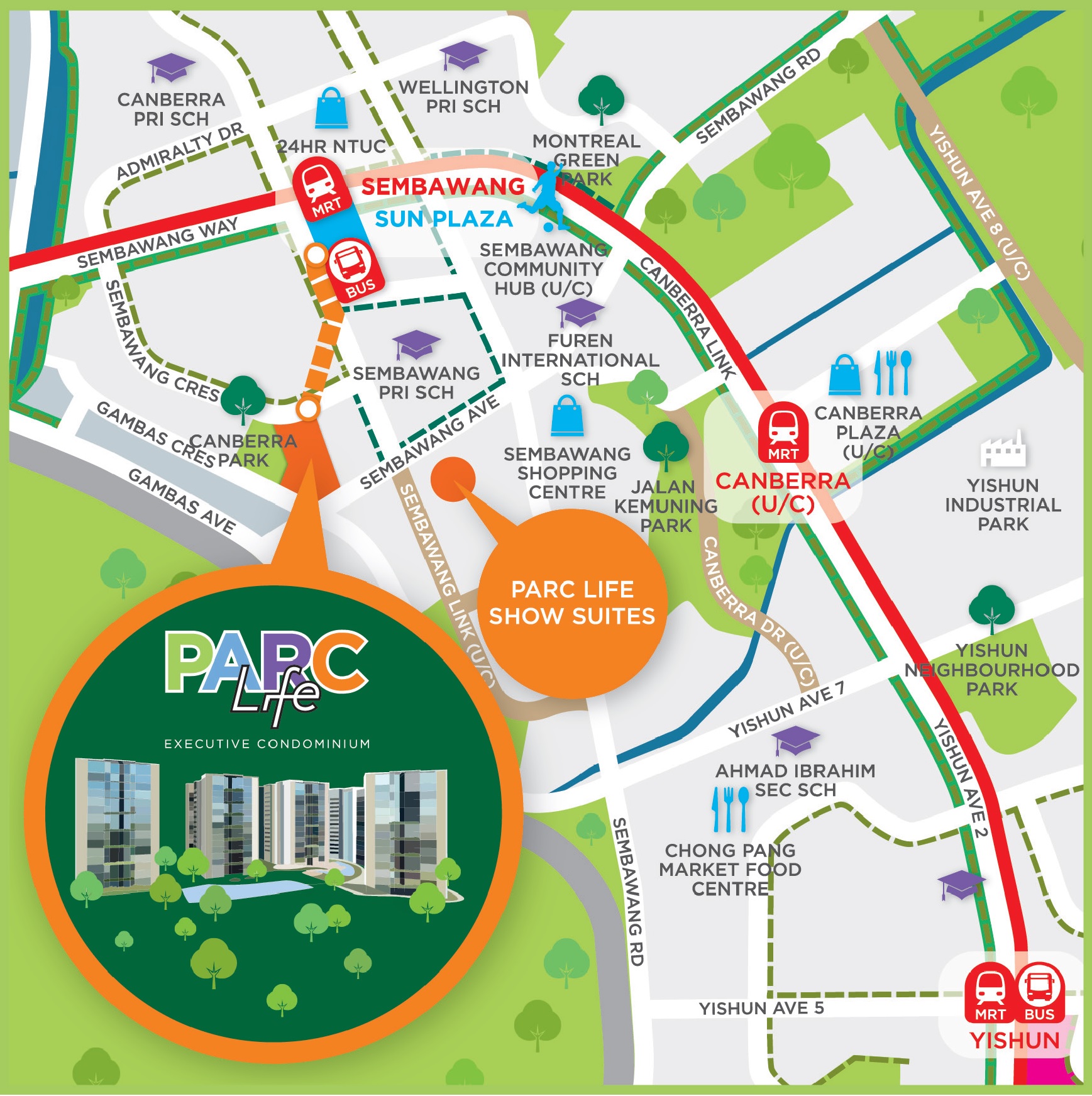 Parc Life EC, which is nearby Brownstone EC, is walking distance to the Sembawang MRT, which is just a short ride to the city. It is also connected to Singapore's major highways, like Seletar Expressway and Central Expressway. Adding to the development's outstanding connectivity are upcoming projects such as Yishun integrated transport hub, new roads leading directly from Yishun to Seletar Areospace Park, new North South Expressway and a proposed Rapid Transit System (RTS) connecting Woodlands to Johor Bahru.
The north of Singapore is poised to get a new burst of life. Active types can enjoy fun filled days and nights at the brand new 24 hour park Orto, which offers activities around the clock. There is even more to look forward to in the coming years, with plans to build an integrated wildlife park in the neighbouring Mandai and transform nearby Woodlands in to a buzzing commercial hub by 2017.
There had never been a better time to live in the north. The area is now getting a new burst of life with exciting developments that will make it hard to beat in terms of liveability and connectivity.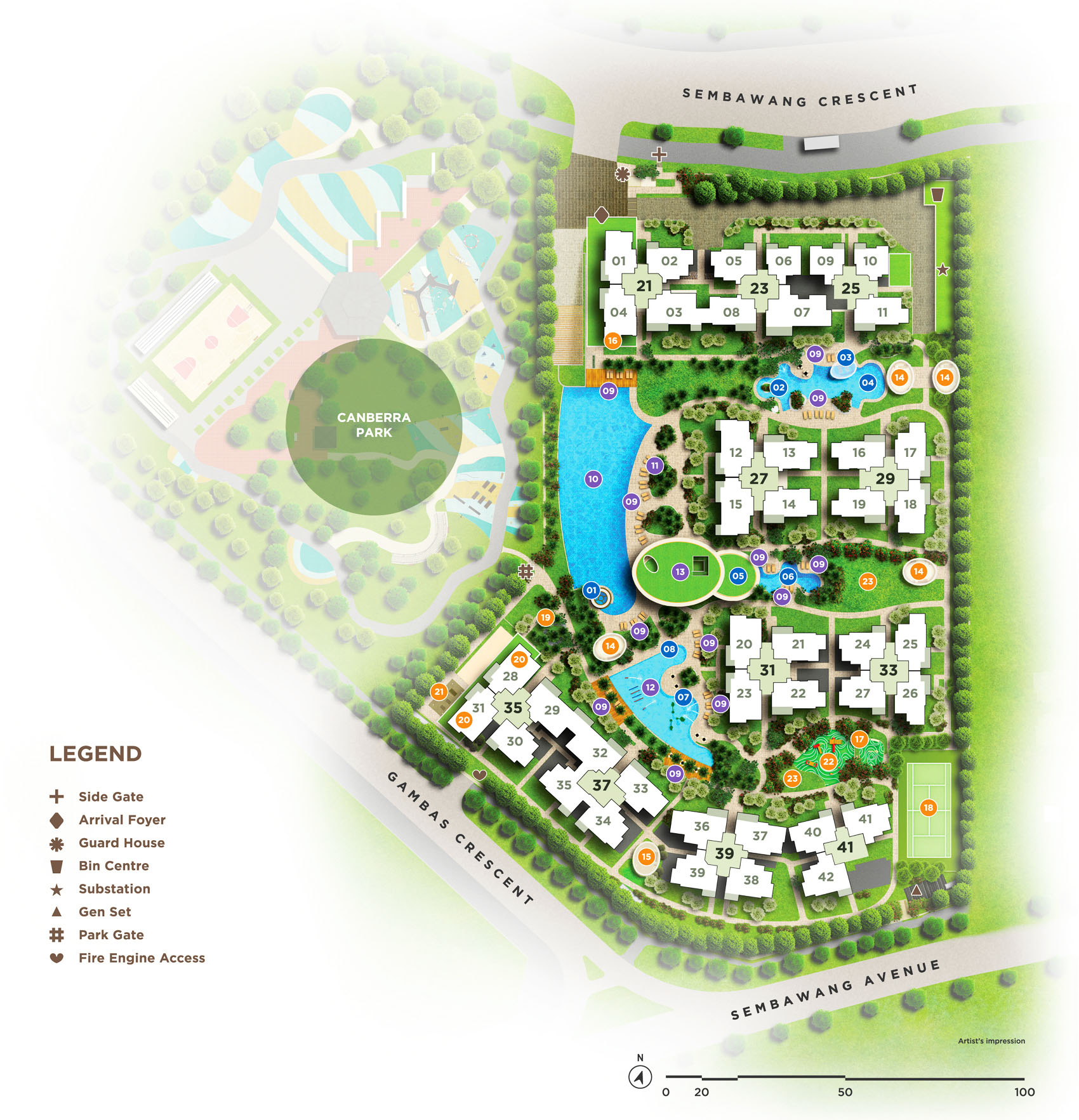 Come home to a spacious living environment. The design of Parc Life optimize the use of space, offering you ample ground to live and play. Blocks are thoughtfully spaced to ensure privacy and to offer beautiful view of the Canberra Park or Parc Life's gorgeous grounds.
Be is a birthday bash, a BBQ party or a rejuvenating dip with your best buddies, Parc Life's eight gorgeous spas are perfect for social gatherings and revitalizing respites. Invite your pals over for a pool bash at the Friends Spa. Be soothed by the gentle massage of rain like drops in the Rain Spa. Give in to the purifying and rejuvenating pitter patter of droplets in crystal clear waters.
Great finesse and care have been applied to create a prestigious living environment for you. Blocks are laid out to offer apartments beautiful views of Canberra Park of the estate's gorgeous grounds, such as the luxurious Lantern Pavilion. Beautiful during the day and even more luminous at night, the Lantern Pavilion Spa offer an intimate dip under the stars, sheltered by an iconic lantern sculpture.
Gourmet Pavilions and Friends Spa make hosting feasts and pool parties so easy. Go ahead, throw that dream pool party your friends and family will be talking for months to come. Parc Life's lush landscape and convenient facilities will make it all the more memorable.
| | |
| --- | --- |
| Developer | Sembawang Residences Pte Ltd – Jointly developed by Frasers Centrepoint Limited and Keong Hong Holdings Limited |
| Address | Sembawang Crescent (next to Canberra Park) |
| Tenure | Leasehold 99-years |
| Expected TOP Date | 13 September 2018 |
| No. of Units / Storeys | 628 Units/ Total 11 blks – 7 blks of 16 storey & 4 blks of 15 storey |
| Site Area | 238,850 sqft / 22,190 sqm |
| Plot Ratio | 2.8 |
| Payment Scheme | Normal Progressive and Deferred Payment |
| Architect | C168 Architects Pte Ltd |
| | | |
| --- | --- | --- |
| Type | No of Units | Size |
| 2 Bedrooms | 46 units | 753 – 764 sqft |
| 3 Bedrooms | 383 units | 926 – 1066 sqft |
| 3 Bedrooms + Universal | 105 units | 1109 sqft |
| 4 Bedrooms | 78 units | 1270 – 1281 sqft |
| 5 Bedroom | 16 units | 1550 sqft |
| Total | 628 units | - |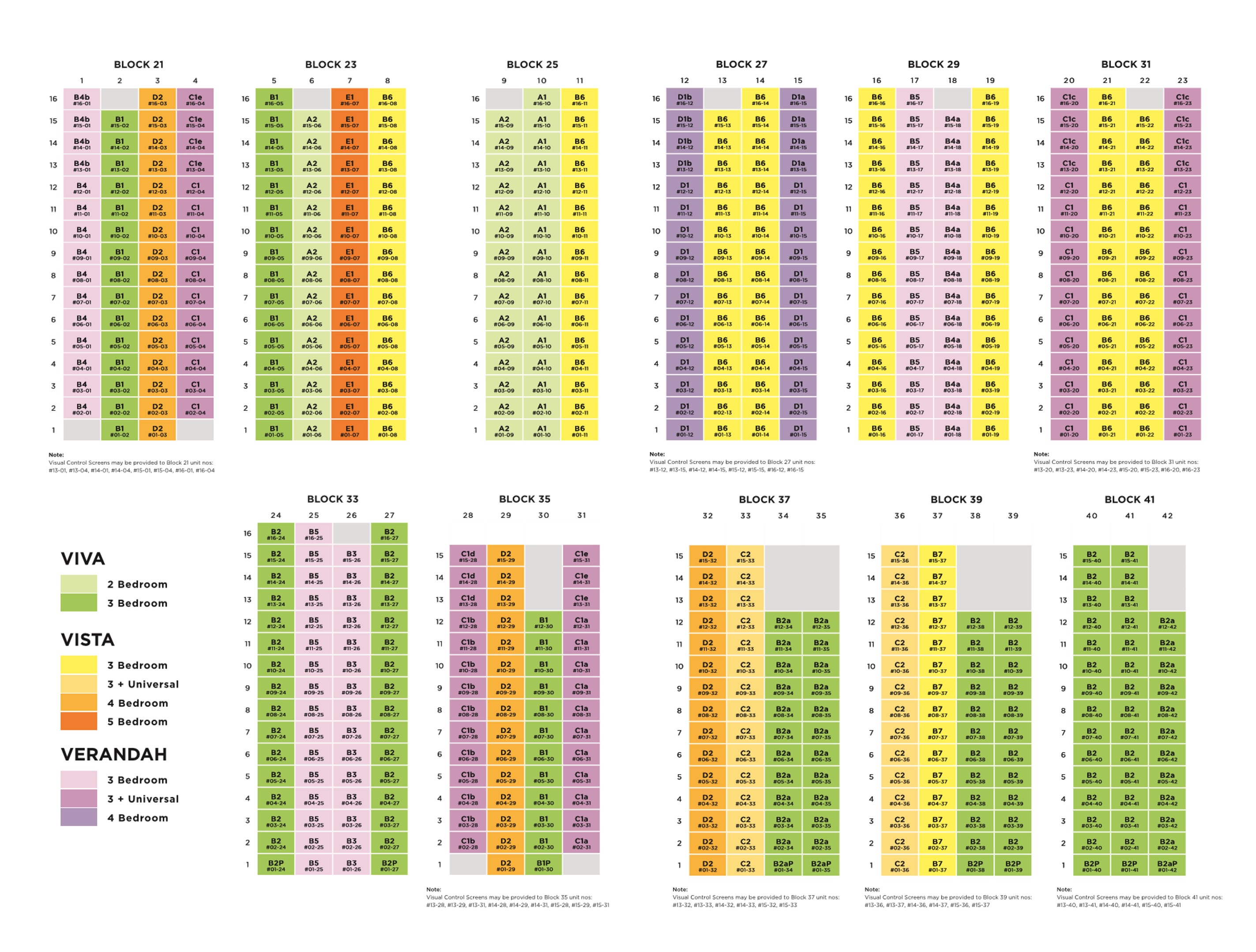 All residents at Parc Life are promised ample space and recreational activities, including your best fur friends! Make friends with other furry residents at this special hangout and grooming space created especially for pets and pets lovers to bond and play.
Come home to happiness and beauty. An infinity pool trickling over the edge, seemingly into Canberra Park offer the eye a soothing sight. Sunshine and beautiful views are sure ways to rejuvenate the body and soul.
Check out the details to experience the spacious and smart layouts combined to meet the needs of your family now!
* Prices subject to changes. Enquire to check out the updated Parc Life EC available units, prices and discounts now!
Call For Enquiries or Viewing Appointments Now!
ENQUIRY HOTLINE:
9691 4350