Purchasing a home is no small matter and it is one of the most important purchases that you are likely to make.
With a large variety of options available for homeowners, it can be difficult to determine which home is best suited to your needs.
Not all executive condo are the same and there are many factors that differentiate one EC from the next. Here are five things to consider when you are deciding on which EC to purchase.
1. Accessibility to public transport
Traveling to and from your home is much more convenient and faster if it is located near an MRT station.
The Brownstone EC is the only upcoming EC located near an MRT station. It is just a short walk to the future Canberra station on the North-South Line that will bring you directly to Singapore's central business district and major shopping district.
It also connects to other MRT lines such as the Circle Line at Bishan station, as well as to Woodlands MRT station that will bring you to the proposed Rapid Transit System link to Johor Bahru, Malaysia.
2. Proximity to major expressways
If you drive, proximity to an expressway reduces your traveling time, allowing you to spend more time with your loved ones.
The new North-South Expressway (NSE) is a stone's throw away from the Brownstone. It will bring you into the heart of Singapore and link you to other expressways in Singapore, including the Pan-Island Expressway and East Coast Parkway. The Brownstone is also near the Seletar Expressway and the Central Expressway.
3. Design that has been well thought out
When a residence is located near a train station, there may be concern over a lack of privacy as well as excessive noise, especially when the train tracks are next to it.
To enhance the ambience of residents, the area nearest to the train tracks at The Brownstone features a designer multi-storey car park and gym that looks into the main swimming pool. The carpark will be covered by lush foliage to create a green wall at a strategic location that will act as a privacy and noise barrier.
What's more, the design of an EC should not only be practical, but also visually pleasing to the eye and be a place where you want to spend your time.
Taking inspiration from New York's brownstone row houses, The Brownstone will have a brown sandstone textured façade with unique jetty balconies that extend your living space. The apartment units at The Brownstone are also primarily in a north-south direction so there is minimal afternoon sun shining in.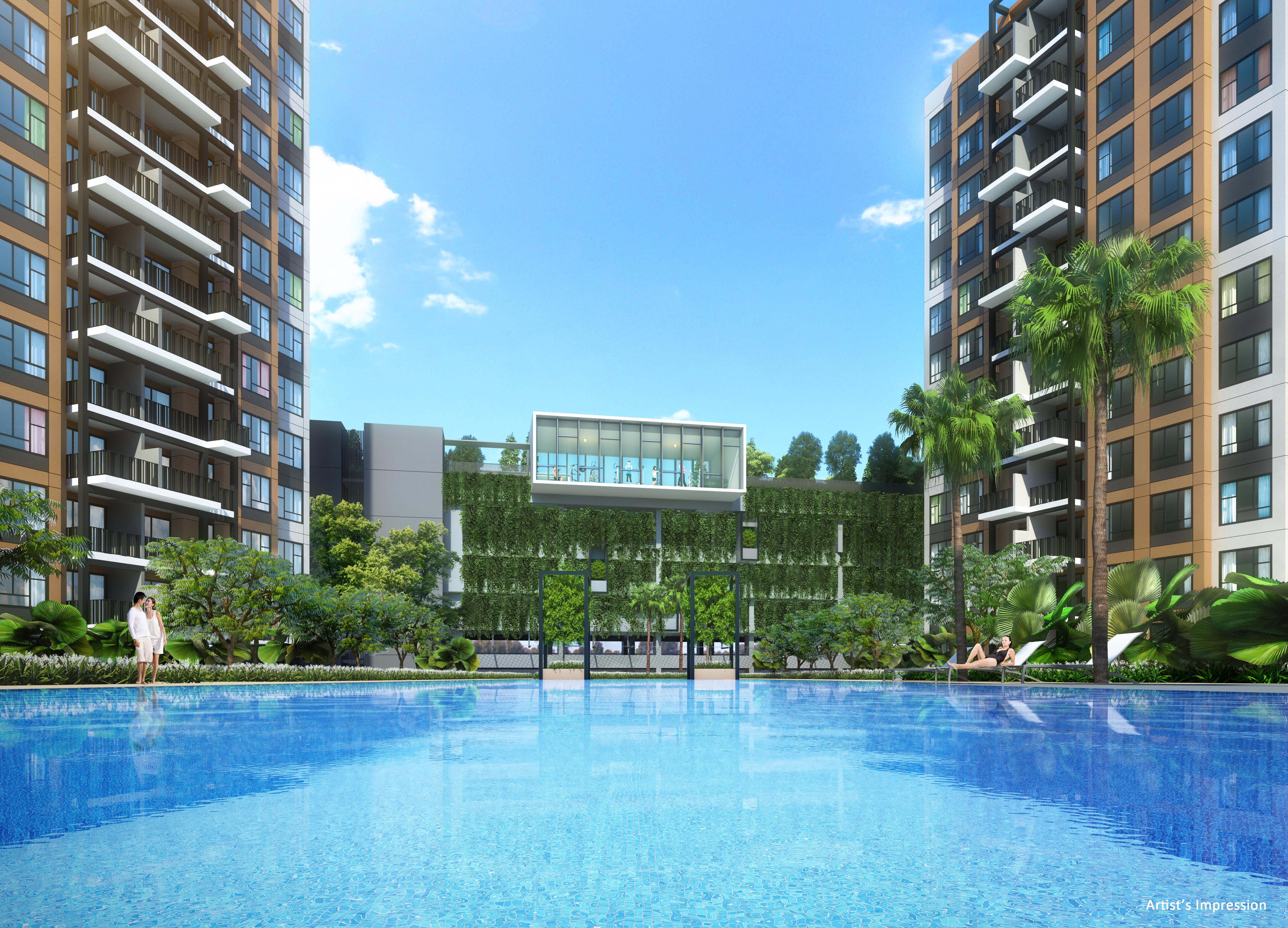 4. Quality that you can trust
The Brownstone is built with the latest building method called Prefabricated Prefinished Volumetric Construction (PPVC).
PPVC uses prefabricated modules that are manufactured in factories complete with internal finishes, furnishings and fittings, and transported to the site for assembly. This ensures the overall quality of the building as there can be more stringent quality control.
Another assurance of quality is to buy from a developer with a proven track record for building excellence.
The Brownstone is by City Developments Limited, Singapore's top private developer with the most BCA Green Mark awards, so you know your next home is in good hands.
5. Presence of family-friendly facilities
All ECs come with facilities, but a good one should have a mix of facilities that cater to people of all ages, for everyone in the family.
The Brownstone EC features a variety of recreational facilities such as pool view clubhouse for parties, barbecue pits at the Sky deck to hold gatherings and feasts, a number of different pools, ranging from social pools to lap pools, social gardens for those with green fingers and a junior skating rink for those who like to be on wheels.
The smallest differences can have a big impact on your quality of life as not all ECs are the same. So do consider the different aspects that comprise and differentiate an EC and make the best choice for yourself and your family.