SINGAPORE – In 1992, then Minister for National Development S. Dhanabalan planted a tembusu tree at Kallang Park Connector to mark the birth of the Park Connector Network.
Residents in Hougang will now be able to cycle directly to Punggol and Kallang, thanks to the completion of the new Hougang Avenue 3 Park Connector. This will benefit executive condo residents such as those from The Terrace EC and Waterwoods EC.
Yesterday, the length of these connectors in Singapore reached 300km, with the launch of the Central Urban Loop.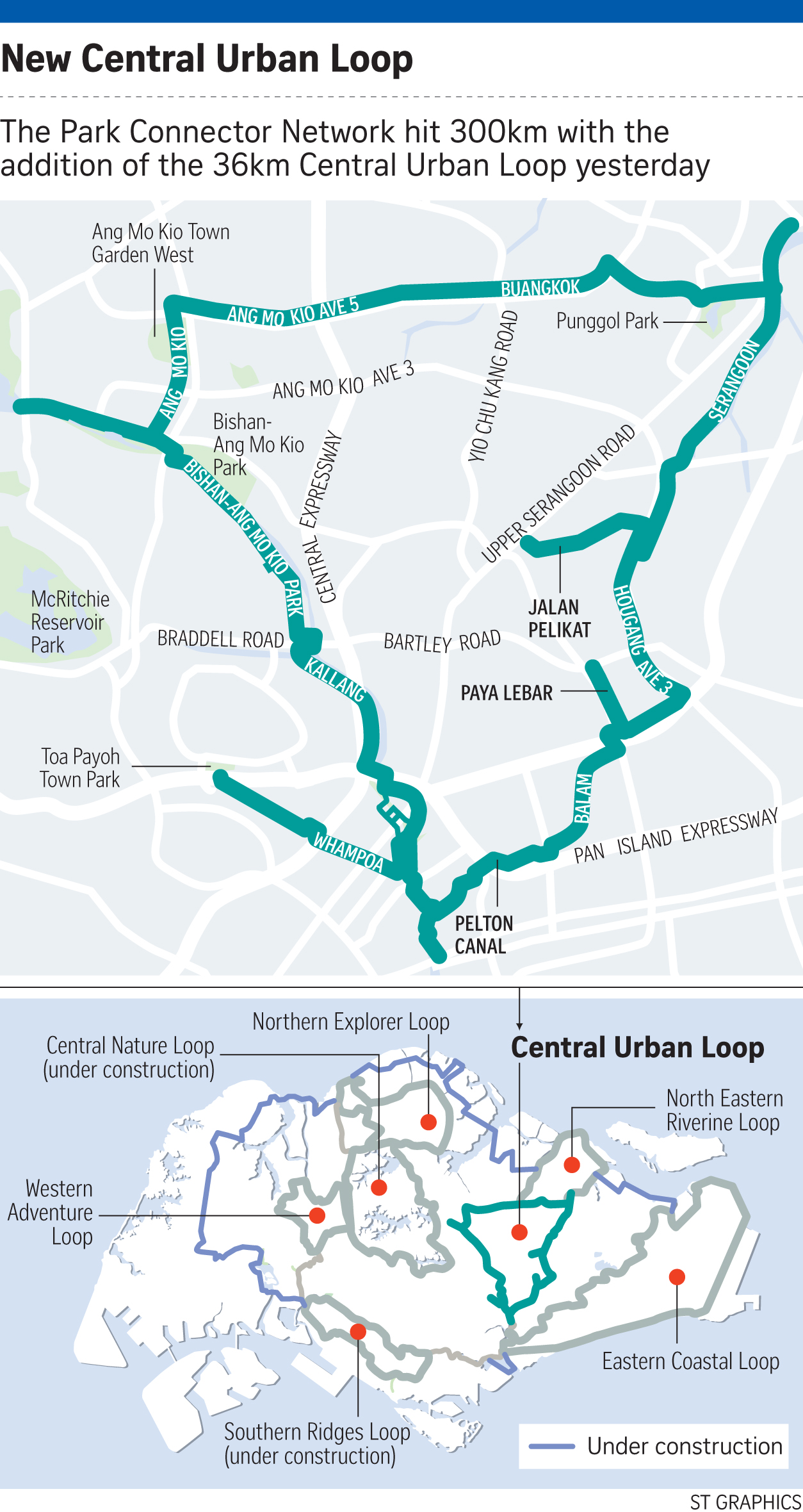 In a blog post yesterday (Sept 20), National Development Minister Khaw Boon Wan said: "Our park connectors have become well-loved green spaces." He added that it is heartening that the community has developed a strong sense of ownership towards them.
Construction of the 4.3km park route began last year and it completes the 36km Central Urban Loop, the fifth loop in the Park Connector Network (PCN).
It links the existing North Eastern Riverine and Eastern Coastal loops, allowing residents in Ang Mo Kio, Hougang and Serangoon improved access to attractions such as the East Coast and Punggol Waterway parks.
"I'm interested in exploring the new Central Urban Loop," said Sengkang resident Woon Wai Meng, 38. The media engineer, who is an avid cyclist, added that he looks forward to more of the park connectors being linked together across the island.
Another two loops, the Southern Ridges and Central Nature, are currently in the planning stages.
Also in the works is the Round Island Route, which will circle around Singapore and link up with the other PCN loops.
In his blog post, Mr Khaw said that in the next three years, another 30km of park connectors will be completed in Ang Mo Kio, Lorong Halus and Ulu Pandan.
The PCN has expanded from a 5km stretch linking Bishan Park to Braddell Road in 1992 to a 300km network connecting parks, nature sites and housing estates around the island.
The National Parks Board (NParks) works together with other agencies, including town councils and the Land Transport Authority, to improve the PCN experience for users, such as by integrating park connectors with existing facilities like exercise areas and playgrounds and improving accessibility for cyclists.
The network is expected to expand to 360km by 2020.
The opening of the Central Urban Loop coincides with the 25th anniversary of the conception of the PCN in 1990.
NParks marked the occasion with an event held yesterday afternoon at the MacPherson Community Club.
Emeritus Senior Minister Goh Chok Tong and Mr Dhanabalan were in attendance. Also present was Japanese landscape architect Junichi Inada, who conceptualised the park connectors in 1987 while working at NParks.
He presented his idea in a report, which was later picked up by the late founding Prime Minister Lee Kuan Yew.
Mr Inada said: "My concept has been realised. I am very honoured, and I am most happy that people are using the PCN."
Mr Kenneth Er, NParks' chief executive, said: "The park connectors are the green veins of our city in a garden, connecting our communities to our parks and providing myriad recreational options for many."